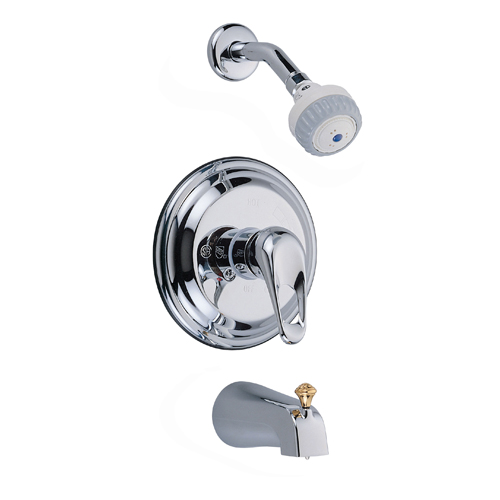 Tub and shower faucet / Pressure balance valve
Model:C401C81A02 Country of Origin:Taiwan Material:C84400 Color:CP,ORB,PVD,SATIN
Detail Specifications / Descriptions
Pressure balance valve is a plumbing device which installed in a tub and shower faucet for the purpose of keeping the temperature of the shower in constant even while the hot and cold supply pressure is greatly changed. Without a device to compensate the pressure changing for shower faucet would lead to an unexpected temperature rising that might cause scalding accidence. Aging person and children could overreact to sudden extreme cold water from shower head by pressure changing supply sources and might cause a problem.
With a precisely made special device in pressure balance valve, it will automatically compensate the sudden delivery pressure changing from both hot and cold water, to a result of only ± 3.6°F slightly temperature fluctuation for the shower water output. This remarkable valve would prevent persons from scalding during showering while unstable water supply occurred.
The delivery changing of hot and cold water for shower faucet might happened by: someone in the house turn on the laundry faucet, sink service faucet, flush the toilet; poor and old piping system create the clogging condition in unexpected moment. Well flow pipeline will be preferred for the installation of this valve to keep it in good working performance and offering you a comfortable showering.
| | |
| --- | --- |
| Company: | HSIEN CHANG METALS CO., LTD. |
Send inquiry to this company
Customers who viewed this item also viewed